Our Urbana MD Dentists Specialize in Invisalign Teeth Straightening
Invisalign Treatment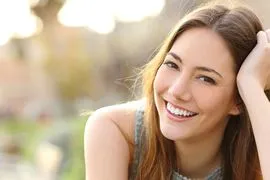 Make your Invisalign appointment at our Urbana office HERE !
If you are looking to straighten your smile but you're not thrilled with the idea of wearing traditional metal braces, then you are in luck! Here at PearlFection Dentistry in Urbana, MD, we understand that as an adult or late teen it isn't ideal to sport a mouth full of braces. Despite all the benefits of having a straighter smile, we realize that someone who is in college or in the working world may not want to wear traditional braces.
Fortunately, you can fix dental malocclusions and get a straighter smile without other people noticing when you choose Invisalign. Invisalign's® invisible, removable, and comfortable aligners will give you the beautiful straight teeth you've always wanted. And best of all, no one can tell you're wearing them. Invisalign® is great for adults and teenagers.
What is Invisalign®?
Invisalign® is the invisible way to straighten your teeth without braces.
Invisalign® uses a series of clear, removable aligners to straighten your teeth without metal wires or brackets.
Invisalign® has been proven effective in clinical research and in orthodontic practices nationwide.
How Does Invisalign® Work?

You wear each set of aligners for about 2 weeks, removing them only to eat, drink, brush, and floss.
As you replace each aligner with the next in the series, your teeth will move little by little, week by week - until they have straightened to the their final position.
You'll visit us about once every 6 weeks to ensure that your treatment is progressing as planned.
Total treatment time averages 9 - 15 months and the average number of aligners during treatment is between 18 - 30, but both will vary from case to case.
Oral Care & Your Invisalign Aligners
Aligners will need to be properly cleaned, but because they can be removed you won't have to make any drastic changes to your diet or oral care routine (which you would have to do with braces). You won't have to worry that certain foods will damage brackets or wire. Just remove your aligners prior to mealtime and you're all set.
The same goes for your oral care routine. Just remove your aligners prior to brushing and flossing. It's that simple. Now you won't have to worry about carefully trying to brush around your traditional braces, where food and bacteria can easily hide. Flossing can also be a challenge with traditional braces, but Invisalign makes it easy to continue caring for your teeth and gums without changing your daily routine. Invisalign fits seamlessly into your lifestyle.
How Are Aligners Made? You'd Be Amazed...
The aligners are made through a combination of our expertise and 3-D computer imaging technology.
Looking to straighten your teeth without the hassle of metal brackets and wires?
PearlFection Dentistry offers Invisalign clear aligners to straighten your smile discreetly.
Call our Urbana, MD office today at (301) 831-8303 to make an appointment!
For our other location in Frederick, MD, call (301) 663-5550 .
---